| | |
| --- | --- |
| Where: | Comberbach, Cheshire at the Drum and Monkey and at various locations in the area |
| When: | Early November for 2 weekends |
| Time: | From 8pm |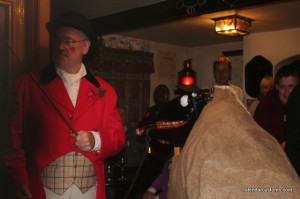 The Comberbach Soulcakers aka the Comberbach Swilltub Mummers are a revivalist group performing traditional folk plays – the main annual event is their performance of the Soulcaking play in early November. The group are based at the village pub The Drum and Monkey and they start their short season with a performance in their home village, with tours around the locality on the following weekends. The dates and times vary slightly from year to year but full details are on the Master Mummers website (see below). Expect a traditional hero/combat play with the addition of  a wild hobby horse and lots of fun!
Helpful Hints
Double-check their schedule before setting off, as the programme is subject to change at fairly short notice – given the number of pubs visited in such a short period and the need to group them by area, this isn't surprising!
Find the schedule here : http://www.mastermummers.org/index.htm
Click here for the Soulcakers website : http://www.goosegate.plus.com/mummers/
View larger map