| | |
| --- | --- |
| Where: | Coopers Hill, Brockworth, Gloucestershire |
| When: | Spring Bank Holiday Monday (end of May) |
| Time: | 12 noon onwards |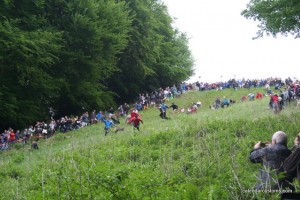 The annual cheeserolling event is famed for the steepness of its course and the hazards to the competitors as they hurtle downhill in pursuit of a Double Gloucester cheese. Because of the terrain, descent is fast, dangerous and exciting to watch – expect a large crowd lining the hillside, protected from flying cheese only by plastic barriers. Injuries to entrants are common as there are precipitous slopes, tussocks of grass and potentially slippery conditions to negotiate; the winner is the first to reach the bottom of the hill and will be very lucky to make their descent without falling on the way. Several races are scheduled with some for ladies and juniors – entry is free! The race seems to be the only surviving part of a former annual fair – early records are sparse but it's reputedly been going for centuries.
Helpful Hints
Turn up early if you want a good view as there will be plenty of spectators. Check beforehand when planning to attend as every so often it will be suspended for health and safety reasons (though a private form of the race will still secretly go ahead to keep the tradition alive!) Following problems with health and safety concerns the event is now unofficial for legal reasons – but it's the best planned unofficial event you'll come across! The hill is very steep and can be slippery depending on the weather even for non participants. Park sensibly and expect to walk at least a short distance – now there is no official car park and the lanes nearby are narrow and steep. In 2013  fake cheeses were used to minimise the flying cheese risks.
In 2018 it will be on Monday 28th May.
For a detailed "insider" history of the event, read "Cheese Rolling in Gloucestershire" [link]
" by Jean Jefferies.
Click here for the event website : http://www.cheese-rolling.co.uk/the_event.htm
View larger map