| | |
| --- | --- |
| Where: | Dovers Hill, Chipping Campden |
| When: | Friday after Spring Bank Holiday |
| Time: | 7.30 pm |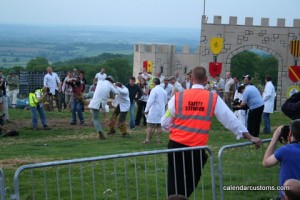 Dating back to 1612, the Cotswold Olimpicks was founded by Robert Dover who was a local barrister. The programme of events includes the official opening with a re-enactment of Robert Dover's arrival at the games accompanied by his very good friend Endymion Porter, the Championship of the Hill (local teams compete in a variety of rural sports including sack races and straw carrying), pipe bands, morris dancing, tug of war and the infamous shin-kicking competition for which this event is so rightly famous. Be prepared to wince at the mighty thwack of boot against bone – the sound reverberates across the hillside together with shouts of encouragement from the crowd ("Kick 'im!). At the finale, a bonfire and fireworks are lit followed by a torchlit procession from Dovers Hill back into Chipping Campden.
Helpful Hints
In 2018 it will be on Friday 1st June (to be confirmed – the 2017 event was cancelled owing to funding and organisational problems).
Park sensibly in the village if you can (avoid narrow lanes – my car got scraped while parked) then you can take part in the torchlit procession which is spectacular – you can buy torches from a stall at the event. Shuttle buses from the village take passengers up the hill at regular intervals for a minimal fee or it's a fairly easy walk. Plenty of food & drink are available on site though alcohol is discouraged and may be confiscated. The setting is a natural amphitheatre – you sit on the hillside with the arena below you – and it's mown rough grass underfoot so you may wish to take a rug to sit on to avoid thistles. Less able visitors should arrive early to bag a spot at the top and avoid using the wooden staircase down the slope – you can take your own picnic chairs. Merchandise is available (t-shirts etc) and you get a commemorative booklet/programme upon entry, which cost £3 for adults in 2010. It was a bargain as it's a great evenings entertainment with a festival atmosphere.
Click here for the event website : http://www.olimpickgames.co.uk/
Click here for event website: http://www.olimpickgames.co.uk/
View larger map