| | |
| --- | --- |
| Where: | Formerly London, at Covent Garden Piazza |
| When: | Formerly 1st Sunday in October |
| Time: | Formerly from 11am |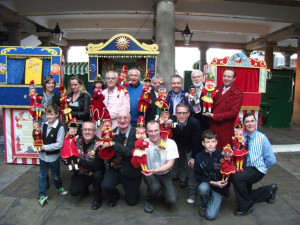 Punch and Judy practitioners (who are traditionally known as Professors) and enthusiasts gathered each October in Covent Garden for an extravaganza celebrating the puppeteering arts. Booths filled the area near the Punch and Judy pub and the puppet masters took turns to put on performances throughout the day. Samuel Pepys was the first person to record a similar performance in 1662 (thought he didn't actually name it as a Punch and Judy show, from the context and content he obviously meant a play akin to it) and as this was watched by him at Covent Garden, the location is widely accepted as the birthplace of Punch and Judy.
Helpful Hints
Admission was free of charge.
This event lapsed in 2012 but similar performances take place as part of Covent Garden's May Fair and Puppet Festival (see separate article).
Click here for the event website: http://www.thepjf.com/index.html
Photo by Sid Williams.
View larger map