| | |
| --- | --- |
| Where: | Madron, Cornwall -field next to church, Liskeard - Bolitho Farm, Penzance Yacht Inn & Admiral Benbow |
| When: | 1st Friday in September and other dates in month |
| Time: | 6.30 pm (both Liskeard and Madron), 7pm Penzance |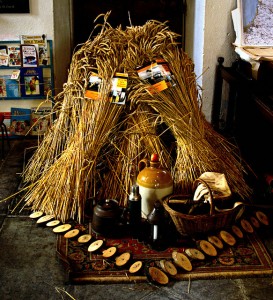 Crying the Neck is a West Country harvest custom where a corn dolly is made from the last sheaf and is hung in church for the year. The origins of the custom may lie in pagan sacrifice, with the last cut of the harvest symbolically killing the harvest spirit – there are a few theories – as the harvesters chant an ancient rhyme. The custom has been revived in several locations but perhaps the best known are at Liskeard and at Madron, so I've used these locations as an example of what happens. The sheaf is cut in a field near the village church  and a short service follows,then a traditional Cornish supper with heavy cake and pasties.
Helpful Hints
In 2017 the Liskeard Ceremony will be at Bolitho Farm, Maudlin (check website link at http://www.oldcornwall.net/liskeard-ocs/4576249396 for exact date and time), the Penzance festivities at 7pm on Saturday 16th hosted by the Cornish Culture Association, and Madron on Monday 18th near the chapel. Others may be found from the Old Cornwall Society pages.
In the past the ceremony took place on the first Friday in September but in some instances it's now a more flexible date within the month.For a full programme of this and similar ceremonies click here : http://www.oldcornwall.net
Click here for the Cornish Culture Association: https://www.facebook.com/celebratekernow/
Photo by Barry Ennor.
View larger map