| | |
| --- | --- |
| Where: | Culloden Visitor Centre - at the Memorial Cairn |
| When: | Saturday nearest 16th April |
| Time: | 10.30am |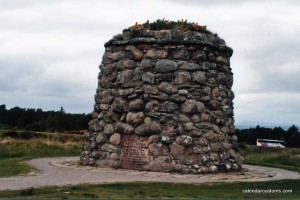 The Battle of Culloden was fought on 16th April 1746 between the forces of Jacobite Pretender or rightful King (depending on your perspective) Bonnie Prince Charlie and the British Army under King George II's  son the Duke of Cumberland. It was the final conflict in the Stuart campaign against the Hanoverian Royal House and was the last battle fought on British soil. The Jacobite army, with a high proportion of Highlanders, was crushingly defeated by the government forces; a repressive regime ensued and Scottish life would never be the same again. Every year a service is held at the Memorial Cairn on the Battlefield to remember the dead on both sides of the conflict.
Helpful Hints
If you haven't visited before, it's well worth seeing the Visitor Centre which gives a great deal of background information and interpretation of the battle, the build-up and the aftermath; there are many artefacts on show.
In 2018 it will be on Saturday April 14th (to be confirmed).
Click here for the Visitor Centre (which has many links to individual Clan societies and their events) : http://www.nts.org.uk/Culloden/Home/
Click here for the 1745 Association:  http://www.1745association.org.uk
Click here for the event Facebook page: https://www.facebook.com/events/1619595945001419/
View larger map