| | |
| --- | --- |
| Where: | Middleton, East Suffolk |
| When: | 26th December |
| Time: | 8.50 at the Village Hall, 9pm at the Bell |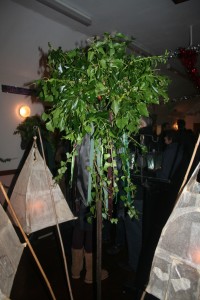 The ancient custom of the Cutty Wren was revived in the 1990s by Old Glory Molly Dancers of Middleton in Suffolk. It was traditional for the Hunting of the Wren to take place on Boxing Day in days gone by – this was a house-visiting custom for largesse, and a real wren was killed and paraded around accompanied by singing and dancing. Old Glory carry a carved wooden wren on a garlanded staff from their meeting place in the village hall in a silent torchlit procession through the streets to the Bell Inn, where they dance and sing by torchlight (proper naked flames, not electric). Old Glory perform in the Molly Dance tradition, dressing like farm labourers with disguised blackened faces except for the Lord and the Lady, who wears a dress and has a beard as well as a bonnet. After dancing outside, the party retire to the warmth of the pub for storytelling about how the Wren became King of the Birds, and wren related songs are sung. Finally, Old Glory dance one last time before departing as they arrived, in silence….
Helpful Hints
Old Glory are great to watch – we first saw them at Whittlesea Straw Bear Festival and I still have some of their tunes stuck in my head!!
The walk from the Village Hall to the pub is around half a mile. It can be tricky to photograph as there are no artificial lights on the walk or during most of the dances. In 2015 there was a brightly lit Christmas House across the Green from the pub – you can't miss it!
Click here for Old Glory's website :http://www.old-glory.org.uk/index.html
View larger map