| | |
| --- | --- |
| Where: | Countrywide |
| When: | May 1 |
| Time: | Dawn (about 5.15 am) |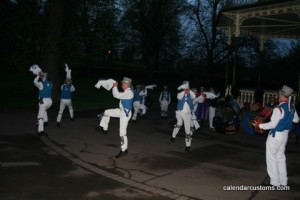 Morris sides across the country welcome the Month of May by dancing at dawn. Our local side Hexham Morris Men and the Hexhamshire Lasses gather in the Park at Hexham and perform a variety of dances as the day breaks before repairing to a hostelry for a well-deserved breakfast. Sides all over England celebrate in a similar way.
Other May Day  customs include maypole dancing which is generally at a later hour, often involving  children plaiting ribbons around the pole. This also frequently takes place in conjuction with May Fairs over the Bank Holiday weekend at numerous locations.
Helpful Hints
You'll need to get up early – dancing will start around 5.15 but at least you shouldn't have problems getting parked nearby (public transport however may be more difficult). Apart from those connected the the dance, the only people you are likely to see are insomniacs, early dog-walkers and the occasional shift worker. Don't expect crowds!
The Hexham event is held at the Bandstand on the Sele park just off Beaumont Street where the Hexham Morris Men and Hexhamshire Lasses dance in the May in style each year. Other notable events include the Dorset Ooser (see separate article), the May 1st dancing at Hastings (follow the website link from the page on Hastings Jack in the Green for more info) and Laxton Castle May 1st celebrations led by Rattlejag Morris.
For Hexham Morris Men's website click here : http://www.hexhammorris.com/
For Rattlejag Morris click here : http://www.rattlejagmorris.org.uk/
To find your local morris side click here : http://www.themorrisring.org/ or here : http://www.morrisfed.org.uk/
View larger map