| | |
| --- | --- |
| Where: | South East London and the City (varies annually) |
| When: | 1st May |
| Time: | From noon |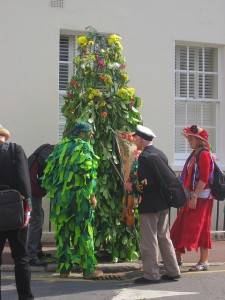 The old May Day custom of parading a Jack in the Green at Deptford, a man encased in a framework entirely covered with greenery, is one of the lesser-known modern revivals though it dates back to the early 1980s. The Blackheath Morris side go out in the City and South East London  with Fowlers Troop and their Jack every May 1st – their route varies from year to year so check their website for final details. Jack wears an elaborate floral crown and is accompanied by dancing and music wherever he goes.
Helpful Hints
This custom takes place on May 1st NOT on the Bank Holiday unless it falls on the 1st, too.
Click here for the event website : http://www.deptford-jack.org.uk/
Photo by Emma Clark.
View larger map