| | |
| --- | --- |
| Where: | Derbyshire: Saturday at Swarkstone Bridge at the Crewe & Harper pub, Sunday in Derby from the Council House on Corporation Street & at Statue |
| When: | 1st weekend in December |
| Time: | Saturday from 11 am, Sunday from noon |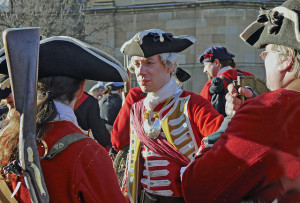 Every December, Bonnie Prince Charlie is remembered in Derbyshire, as Swarkestone Bridge near Derby was the most southerly point reached by his invading army in 1745 . Prince Charles Edward Stuart, as he was also known, was rightful heir to the throne by birth but disbarred from the succession owing to his catholicism, and his attempt to take control ended at Culloden in the following year. Re-enactors take part in parades, wreath laying and recreations of battle on the first weekend of the month, as Prince Charlie was in Derby on December 4th in 1745. The commemorations take place over both days of the weekend with the focus on Swarkestone on the Saturday and in the city of Derby on the Sunday. Expect actors dressed in period costume, pipe bands, wreath laying at the Cairn at Swarkestone and at the Prince Charlie Statue in Derby, and living history encampments.
Helpful Hints
In 2018 it will take place on Saturday 1st December and Sunday 2nd December (to be confirmed).
Click here for the Facebook page of the Charles Edward Stuart Society: https://www.facebook.com/The-Charles-Edward-Stuart-Society-329479296972/
and here for the venue at Swarkestone: https://www.facebook.com/The-Crewe-and-Harpur-1045596942147212/
and for the website: https://www.creweharpurpub.co.uk
Thanks to Ross Parish for reminding me about this event!
Photo by DncnH.
View larger map
View larger map