| | |
| --- | --- |
| Where: | Countrywide |
| When: | Mid-October to Mid-November |
| Time: | All day |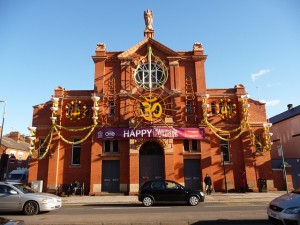 Diwali is a five-day moveable festival celebrated to mark the start of the Hindu New Year and varies according to the Lunar Calendar, so can fall from mid October to mid November. The celebrations also commemorate the return of Lord Rama from his exile after defeating the demon king Ravana and thus the triumph of good over evil. Lamps and fireworks are lit to mark the occasion and fairy lights are put up – sometimes the November 5th Bonfire Night celebrations are held in tandem with displays for Diwali. In the UK Diwali is celebrated with particular enthusiasm in areas with a large number of residents who are Hindu or Sikh  or have ties to India – Leicester holds one of the biggest celebrations outside the subcontinent. Some of the celebrations will take place on weekends near the date (this happens in Newcastle) rather than on Diwali itself.
Helpful Hints
In 2018 it's on Wednesday 7th November.
Click here to find out more : http://www.deepavali.net/
Photo in daylight by Ned Trifle, others at the 2017 Newcastle Diwali Fireworks.
View larger map