| | |
| --- | --- |
| Where: | River Thames from London Bridge to Chelsea |
| When: | Mid July- day depends on the tides |
| Time: | 11.30 (also depends on tides) |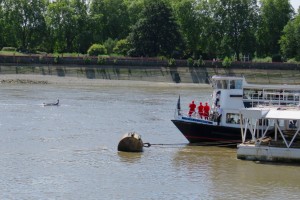 This is the oldest rowing race in the world founded by Thomas Doggett in 1715 with prizes of a red coat and a silver badge, hence the name. He left a bequest so that the race could continue after his death and supposedly he founded it partly in gratitude for a lighterman giving him a late lift home to Chelsea, and partly to celebrate the accession of George I as he was a staunch supporter of the Hanoverian dynasty. Anyone can watch but only London Watermen can compete in the race. It still follows the original course of four miles and seven furlongs, beginning at London Bridge and ending near Cadogan Pier, and is between six freemen of the Company of Watermen and Lightermen. Afterwards the competitors and officials return to Fishmongers Hall (next to London Bridge) for the prizes to be given out.Previous winners of all ages will be attired in their uniforms, with large silver badges on the sleeves.
Helpful Hints
It's usually but not invariably in July (in 2015 it was on Saturday 1st August for the tercentenary of the race).
In 2017 it was on Tuesday July 25th at 11.30 am – 2018 date is yet to be announced.
Depending on the speed of the rowers, the race can take less than half-an-hour. A good view of the finishing stages of the race for landlubbers can be had from Chelsea Embankment near Cadogan Pier. If you want to watch the later prizegiving at Fishmongers Hall, stand on London Bridge and look down on the balcony where the winner and officials all gather approximately an hour or so after the end of the race.
Click here for the Facebook page : https://www.facebook.com/doggetts
Click here for the event website : http://www.doggettsrace.org.uk/
View larger map