| | |
| --- | --- |
| Where: | Cerne Abbas Giant hill-figure, near Cerne Abbas, Dorset at the Trendle, the old maypole site near the Giants Head. |
| When: | May 1 |
| Time: | Dawn (about 5 am) |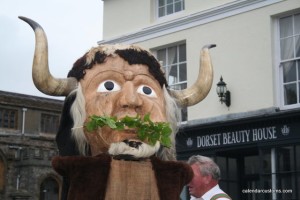 The Dorset Ooser belongs to the Wessex Morris Men and they dance every May Day morning at  the Trendle next to the Cerne Abbas Giant at dawn, to welcome in the May. Other Morris sides perform similar dance ceremonies but this is the only one with the Ooser so they get a special mention! He is a giant figure with a man inside; he is exceedingly tall with a forbidding aspect and his origins may lie with ancient horned gods. Expect dances mainly in the Cotswold tradition, with perhaps visiting sides also taking part. After the dancing up the hill at the Giant, a procession forms beside the Village Hall then the dancers skip their way along the village to perform outside the Royal Oak before breakfast.
Helpful Hints
When he's not out with the Wessex Morris side, the Ooser can be found in Dorchester County Museum.
There is a National Trust carpark near the Village Hall. Turn up around 4.30 and follow someone who knows the route if it's not familiar to you, as though the first part is signposted it could be tricky to negotiate the later stages without help. Visitors with mobility issues and/or wheelchairs are advised to wait for the procession (around 5.30 or a little later) as it would be impossible to get up the steep gradient to the Trendle.Take a torch and be prepared for wet grass! In 2014 we heard the first cuckoo of spring calling across the valley just before dawn -magic!
Click here for the event website : http://www.wessexmorrismen.co.uk/
View larger map