| | |
| --- | --- |
| Where: | Lichfield, Staffs at the Johnson statue in the Market Square |
| When: | 18th September (if a Saturday) or nearest following Saturday |
| Time: | From 10.30 |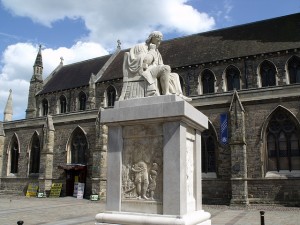 Samuel Johnson was born on September 18th 1709 at Lichfield in Staffordshire and was the son of  a bookseller (a noble profession!). He went on to be one of the illuminati of the eighteenth century literary scene as a writer, editor and critic and is perhaps best known as a lexicographer, publishing his famous dictionary in 1755. A ceremony is held annually to mark his birthday at his birthplace – there is a short commemorative service and wreaths are laid at his statue by pupils from King Edward VI School. Birthday cake is given out at the Birthplace Museum during the afternoon and members of the Johnson Society hold a memorial dinner with all of Samuel's favourite dishes (members only at the dinner).
Helpful Hints
The museum at Samuel Johnson's Birthplace is worth a visit, just on the corner of the Market Square. There is also a commemorative wreath-laying in the Cathedral during Sunday morning service at Johnson's memorial, and further wreath-laying on the Monday at Uttoxeter Market Place at 11am, where Johnson's father had his book-stall and Samuel did penance for his vanity by standing in the rain.
It's held on the 18th itself when this falls on a Saturday, otherwise on the Saturday following the 18th. The only exception to this rule is if the 18th falls on a Sunday, in which case the celebrations take place on the 17th instead (but this doesn't happen for several years).
In 2017 it will be on Saturday September 23rd.
Click here for the website : http://www.samueljohnsonbirthplace.org.uk/default.aspx
Photo by Ell Brown.
View larger map