| | |
| --- | --- |
| Where: | Driffield, East Yorkshire starting at the Railway Station |
| When: | First trading day of the year |
| Time: | From 9 am |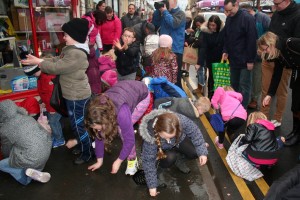 Each January, on the very first trading day of the New Year, the children of Driffield are treated to a barrage of sweets from the shopkeepers of the town. The tradition has been going for centuries, though in the old days the pennies were real currency rather than the chocolate coins and other confectionary which are thrown today, and they used to heat the coins up hot on shovels to make it more challenging for the children picking them up! It was formerly held on 1st January but with the introduction of Bank Holidays the date was moved so that the custom would continue to occur when the businesses are open. When I visited in 2015 I was made very welcome and was introduced to a number of stalwarts who have been supporting the custom for many years, including Mrs Hubbard who remembers family members discussing the scramble who took part over 100 years ago, in the days before the Great War, and who from personal recollection can recall literally hundreds of children participating in the past.When the custom appeared to be dwindling in the latter half of the twentieth century, the Town Council relaunched it and now the Town Crier leads the way accompanied by other civic dignitaries. In return for their largesse, the shopkeepers and other traders  are treated to renditions of the special rhyme which accompanies the tradition : "Here we are at our town end, A shoulder of mutton, and a crown to spend. Are we downhearted? No! Will we win? Yes! Hip! hip, hooray."  The Crier rings his bell while the children scramble to collect all the airborne goodies flung their way. It's mainly sweets but there are still a few coins to collect (though none were red-hot!).It's a popular event in the town and a great start to the New Year, and it looks set to continue healthily into the future.
Helpful Hints
The tour of town begins  at the Railway Station, and the whole event lasts around an hour and a half with a rolling road closure scheme to ensure the safety of the party as it weaves its way around the streets. All are welcome.
It usually happens on January 2nd but when that date falls on a Sunday or Bank Holiday, the event moves to 3rd instead.
In 2018 it will be on Tuesday January 2nd.
Click here for the Town Council website: http://www.driffieldtowncouncil.org.uk
For a first-hand account click here: https://traditionalcustomsandceremonies.wordpress.com/2015/01/31/custom-revived-driffield-penny-scramble/
Thanks to Ross Parish for drawing this little-known (outside of Driffield!) custom to my attention.
View larger map