| | |
| --- | --- |
| Where: | London at Tower Hill Terrace |
| When: | 20th or 21st March |
| Time: | 11.30-ish am for noon |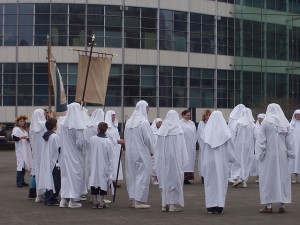 The Spring or Vernal Equinox is celebrated at numerous locations throughout the British Isles but the most famous is the event held by the Druid Order at Tower Hill in London. The Equinox is the point at which night and day are of equal length. Expect about 30 Druids to process along Byward Street to Tower Hill Terrace in silence. Participants dressed in white robes carry banners, invoke the elements and perform blessings before scattering seeds to encourage a fruitful year ahead.
Helpful Hints
The exact date of the equinox varies a little with the calendar, falling on 20th or 21st of March. The ceremony lasts around 40 minutes.
In 2018 it's on Tuesday 20th March.
Click here for the Druid Order's website : http://thedruidorder.org
Photo by Metro Centric.
View larger map