| | |
| --- | --- |
| Where: | Ducklington, Oxfordshire at St Bartholomew's Church and Fritillary Field |
| When: | A Sunday in late April |
| Time: | From 11.30 am with bellringing & dancing in the afternoon from 1.30pm |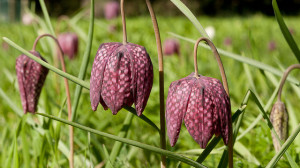 The Snake's Head Fritillary is a scarce wildflower which flourishes in a country meadow in Oxfordshire in the parish of Ducklington; it is believed that this is the only place where they now grow in quantity in the wild. Once a year the landowners allow access to the field in which the flowers grow and the day has turned into a fundraising event for the church with plenty of good food on offer and performances by Ducklington Morris Dancers and handbell ringers. The afternoon is rounded off with a special service at the church at 5.30 pm.
Helpful Hints
While it's usually around the same date in late April, the event is subject to the flowers being in bloom so can vary a little with the season and may be altered close to the date to reflect this.
In 2017 it was on Sunday 23rd April – 2018 date is yet to be announced.
Click here for the event website: http://www.ducklingtonchurch.org.uk
View larger map