| | |
| --- | --- |
| Where: | Dumfries and environs, starting at the Midsteeple, High Street |
| When: | 3rd Saturday in June |
| Time: | From 7.30 am with Crowning at 12.15 |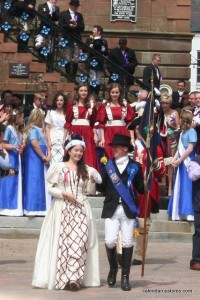 Common Ridings are a boundary marking custom on horseback. They are mainly held at locations across the Scottish Borders, perhaps because this area suffered from centuries of raiding and reiving between local families and the English, and the locals needed to protect their lands from encroachment. Long after this was necessary, the Ridings survived to become major festivals and a great day out! Guid Nychburris Day follows in this tradition with horses gathering from 7.30am; at 8am they ride out to meet the Pursuivant then Ride the Marches, retuning to town around mid-day when the charter is read and the Queen of the South is crowned. Expect on-street performances from musicians and dancers throughout the day and the Big Parade of floats in the afternoon.
Helpful Hints
In 2018 Guid Nychburris Day is Saturday June 16th.
Click here for the event website : http://www.guidnychburrisassociation.co.uk
and Facebook page: https://www.facebook.com/Guid-Nychburris-Association-137180649676354/?hc_ref=SEARCH&fref=nf
View larger map