| | |
| --- | --- |
| Where: | Great Dunmow, Essex in a Marquee at Talberds Ley on the North side of town centre |
| When: | Saturday in Mid July every four years |
| Time: | 10.30am, 2pm & 7pm |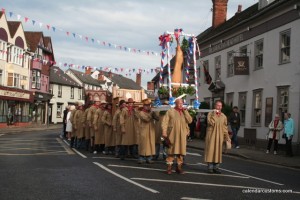 The Dunmow Flitch Trial is a unique custom celebrating marital felicity – couples must demonstrate to Judge, Counsel and Jury that they have been unrepentantly married for a year and a day and winners receive a flitch of bacon (a cured half-pig). The custom takes place every four years and its alleged history goes back to 1104 when the Prior of Little Dunmow blessed the local landowner and his bride (disguised as commoners) a year and a day after their marriage – they revealed their true identities and donated land to the Priory on condition the custom was established for similarly devoted couples. Successful claimants are borne aloft in the Flitch Chair and taken from the marquee where the trial takes place to the Market Place where they swear an oath similar to ancient marriage vows. It's a really great day out!
Helpful Hints
There are stalls and entertainments on the meadow next to the marquee. Plenty of food & drinks are available in town and the car parks are well signposted from the Hight Street (the one right next to Talbot Leys was kept for the officials of the event so just go along the road a bit to find alternatives- there were plenty of spaces in the long-stay carpark by the Co-op).
It's only held every fourth year -when we went in 2012 four couples were successful in their claims! At £5 a ticket for the morning trial and £12/£16 each for the double trials in afternoon and evening, it was very good value.  The last Flitch Trial was on Saturday 9th July 2016 – next one will be in 2020, date yet to be confirmed .
Click here for the excellent event website : http://www.dunmowflitchtrials.co.uk/
Little Dunmow Priory nearby is where the original trials took place – an old Flitch Chair is still kept in the church and the village pub is called the Flitch of Bacon.
View larger map