| | |
| --- | --- |
| Where: | Durham, at the Cathedral |
| When: | 20th March or near date |
| Time: | 5.15 pm |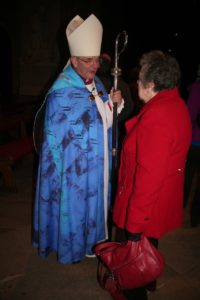 Durham Cathedral is the final resting place of St Cuthbert and each year the Cathedral hosts a range of celebrations to mark his feast day on 20th March. Prayers are said every day at his tomb all year, and for the feast a special festal eucharist is sung during which the congregation are invited to process to the Saint's tomb in the feretory, accompanied by incense and specially written pieces of music. Also on a day near to the feast there will be a walk organised by the Northumbrian Association which sets off in the morning at 9.30 from the church at Chester-le-Street and arrives at the Cathedral during the afternoon (around 2.15 pm) carrying the Banner of St Cuthbert, to be welcomed by prayers at the Shrine.
Helpful Hints
If the Feast of St Cuthbert coincides with Holy Week (which happens some years because Easter is a moveable feast and St Cuthbert's is fixed) then the St Cuthbert's Services may change date slightly – double check with the Cathedral if you're unsure. Full details of the Feast and the Walk can be found on the Cathedral website.
Click here for the Cathedral website: https://www.durhamcathedral.co.uk
View larger map