| | |
| --- | --- |
| Where: | Dymchurch-under-the-Wall, Kent - locations around the village including the Martello Tower, the beach and St Peter & St Paul's Church |
| When: | August Bank Holiday weekend (every other year) |
| Time: | From 9am |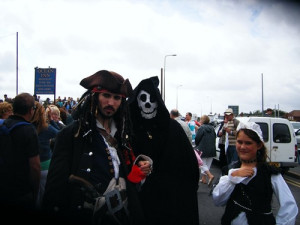 Day of Syn has to be one of the best-named fixtures in the calendar and refers, if there are any doubts, to fictional hero Dr Syn, aka the Scarecrow, and his gang. Actor and author Russell Thorndyke wrote seven novels featuring the eponymous smuggling vicar character, and they were set amidst the eighteenth-century community based around Romney Marsh in Kent. The festival takes place over the whole of August Bank Holiday Weekend and has been running as a charity fundraiser for fifty years, though it takes place only in alternate years.  The main event is the Sunday which includes a costumed parade, re-enactments, a special evensong service at the church, a flower festival and a fete. Expect swashbuckling gallants, dashing soldiers,pressgangs, morris men, mummers and more!
Helpful Hints
The next Day of Syn will be Saturday August 25th –  Monday 27th 2018. Full details will appear in due course on the event website.
Click here for the event website: http://www.dayofsyn.co.uk
Thanks to Ross Parish for drawing this event to my attention! For his first-hand account, click here: http://traditionalcustomsandceremonies.wordpress.com/2014/08/31/custom-contrived-dymchurch-day-of-syn/
Photo by Andy Leaning.
View larger map