| | |
| --- | --- |
| Where: | Edinburgh starting at Lang Loan Road and finishing at the Mercat Cross |
| When: | Sunday in early to mid September |
| Time: | 10.30am- 3.30pm |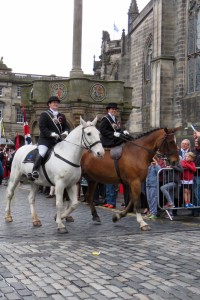 The Riding of the Marches in Edinburgh is a modern revival of a boundary-marking custom dating back to at least the sixteenth century and is a typical Scottish Lowlands Common Riding event. The ride also commemorates the fallen of the Battle of Flodden and part of the route passes by the Flodden Wall , built to keep the English out of the city after the defeat of King James IV in 1513. It is intended that the Riding will be annual and it is currently evolving having been reinstated in 2009. The cavalcade of around 250 horses and riders is led by the Edinburgh Captain and Edinburgh Lass amidst bands, banners, standards and flags and the procession marching up the Royal Mile is a memorable sight – by around 3.30 the riders will be in the Holyrood Park area ready to enter the city centre. Look out for the Blue Blanket, a replica of the ancient banner used to summon the Scots to war .A civic reception meets at about 4pm at the Mercat Cross to welcome the riders home, including representatives of the Incorporated Trades of Edinburgh with their flags. While the crowd awaits the arrival of the riders, there are bands, pipers and the City Guard re-enactment group to keep everyone entertained. The ceremony incorporates a minutes' silence in memory of the fallen, while the banners are lowered by the Principals atop the Mercat Cross.
Helpful Hints
In 2017 it will be on Sunday September 17th.
Programmes are available from street sellers on the day (£2 in 2015).
Click here for the event website : http://www.edinburghridingthemarches.co.uk/
View larger map