| | |
| --- | --- |
| Where: | Eyemouth town centre & harbour with Crowning at Home Arms carpark on High Street |
| When: | A Saturday in July (depending on the tides) |
| Time: | 11.45 onwards with arrival of the Queen at 2.30 approx and crowning at 4pm |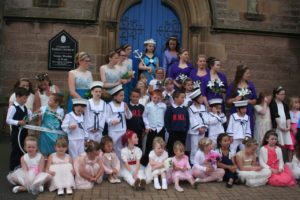 The herring harvest was of vital importance to the town of Eyemouth and the surrounding area, and every year the bounty of the sea is celebrated with a festival and the Herring Queen is crowned. The Queen and her attendants wear  lavish costumes and sail into the harbour for a parade around town before the crowning ceremony. After the ceremony , speeches and thanks and prayers, wreaths are laid by the new Queen at the town's Memorials.The event also commemorates the 1881 disaster when 23 fishing boats and their crew of 129 were lost in a storm, and there is a  memorial tapestry depicting  this event on "Black Friday" in Eyemouth Museum on Manse Road. Many other special events and entertainments are hosted by the town over the whole festival week.
Helpful Hints
The exact dating of the Festival is dependent on the tides. In 2016 the festival runs from 16th – 24th July with the Coronation on 16th.
In 2017 the  Festival runs from 22nd – 30th July and the Coronation will be on Saturday 22nd July.
Click here for the event website : http://www.eyemouthherringqueen.org.uk/
and here for the Facebook page: https://www.facebook.com/Eyemouth-Herring-Queen-182191965197149/
View larger map