| | |
| --- | --- |
| Where: | Faversham, Kent - town centre |
| When: | 1st weekend in September |
| Time: | From 10.30 on Saturday |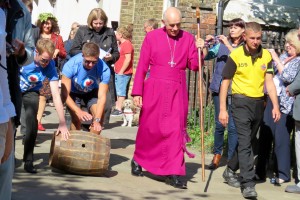 The Hop Festival is a well-established modern day custom sponsored by the local brewery,unsurprisingly as hops are a staple of the brewing industry. It celebrates the hop-growing heritage of the area and of course the use of hops in making beer, which is readily available throughout the event. There's street theatre, childrens' entertainers, morris dancing and live music (there are 3 stages in town). It's a two day event with an Opening Ceremony at 10.30 on Saturday by the Mayor, the crowning of the Hop Queen,Processions and lots more. On both days when we attended, the Pearly Kings and Queens  performed traditional songs on stage which was a reminder of the huge part that the East London hop-pickers played in the harvest in the days  before mechanisation – singing along is encouraged! On the Sunday morning there is a brief Hop Blessing outdoors when the Procession gathers on the way to the longer Blessing of the Beer service at the parish church; a barrel is rolled through town, into the church and right up to the altar. Expect lots of hop garlands and a plethora of hop related merchandise.
Helpful Hints
It's usually held in early September (though in 2014 it took place on Saturday 30th and Sunday 31st August). In 2017 it was on Saturday 2nd and Sunday 3rd September – 2018 dates are yet to be announced.
Exact event timings vary a little from one year to another, and as the organisers hope you'll buy a programme they're not too exact on the website. However, if you're in town by 10 o'clock you won't miss much and programmes are readily available! We enjoyed it so much we went both days instead of just one.
We found the special event carpark costing £5 on the edge of Faversham in 2015 was useful, well signposted and immense, and there's a handy hopper bus (no pun intended!) which runs around all day at a cost of £1 a day per person (wristbands are your proof of payment).
Click here for the website : http://www.thehopfestival.com/index.html
View larger map