| | |
| --- | --- |
| Where: | Ashmore, Dorset by the village pond |
| When: | Friday nearest 21st June |
| Time: | 7.30 pm |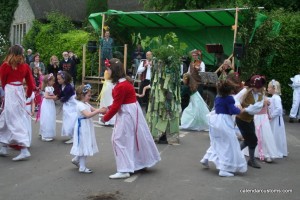 The Filly Loo is a celebration marking the longest day and the filling of the village pond and is held on the Friday nearest June 21st.  There's  a green-man, the Hambleden Hopstep Band and their caller (who are all very good) and lots of dancing in the village street, the climax being a version of the Abbots Bromley Horndance by torchlight in an eerie silence broken only by the sound of a lone flautist. There are also performances by Morris Dancers and the Steps in Time junior folk dance group, beautifully costumed and very talented, who took part in the 2012 Olympic Opening Ceremony.The evening ends with everyone dancing hand-in-hand around the village pond. Most people there are locals who all know each other but it's very friendly. Participatory dancing is encouraged but not compulsory!
Helpful Hints
The derivation of the name Filly Loo seems to have been obscured by the passage of time – I've seen a suggestion that it's from the French for water maiden but don't know if this is correct (if you know more, pass it on!).
Refreshments and other stalls are available near the pond and there is a well signposted free carpark on the road into the village from the North side. We can recommend the village barbecue, or you can picnic by the pond.
In 2018 it will take place on Friday 22nd June.
Click here for the Band website: http://www.hambledonhopstepband.co.uk
Click here for more info : http://www.darkdorset.co.uk/the_filly_loo
View larger map