| | |
| --- | --- |
| Where: | Countrywide but especially in Scotland |
| When: | 1st January |
| Time: | Anytime but the earlier the better |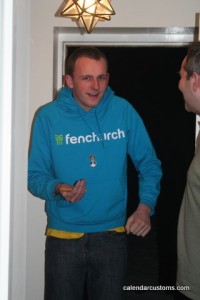 First Footing is the custom of house visiting to bring luck for the New Year. Traditions vary slightly but it is widely accepted that the most auspicious first-footer should be a man and he should carry items to represent prosperity for the future (such as coal to represent warmth, salt for wealth and bread for food). In 2010 we locked my nephew Matthew out in the snow just before the stroke of midnight and he brought coal, salt and bread in with him to let in the New Year.