| | |
| --- | --- |
| Where: | Branxton, Northumberland at the Battle Monument on Pipers Hill just to the southwest of the village |
| When: | 9th September |
| Time: | 7pm |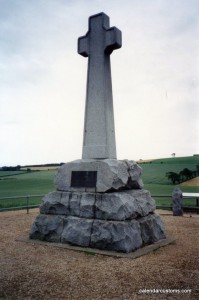 In 1513 the Battle of Flodden took place between the forces of Henry VIII of England and his brother-in-law James IV of Scotland; the day ended badly for the Scots with their King dead on the battlefield alongside thousands of his countrymen. The English army was commanded by veteran 70-year-old Thomas Howard, Earl of Surrey, as Henry himself was campaigning in France at the time. Every year the 1513 Club hold a special service on the anniversary of the conflict to commemorate the Brave of Both Nations at the battlefield cross just outside the village of Branxton in Northumberland. Toasts are made and readings given by club members and it lasts around an hour, to coincide with the time that the battle itself ended 500 years ago.
Helpful Hints
Members of the public are welcome to watch. Additional events were held during 2013 to commemorate the quincentenary of the battle both on and around 9th September – the 1513 Club Commemoration takes place every year on the 9th.
King James's body lay at Branxton Church before being interred in Surrey – the church is between the village centre and the Battlefield carpark. A telephone kiosk in the village is now a small heritage centre for the battlefield.
There is a small carpark near the cross. New paths provide access for wheelchairs (but it's still a steep hill!).
Click here for the 1513 Club website and lots of local history and information : http://www.flodden1513.com/
View larger map