| | |
| --- | --- |
| Where: | Fownhope, Herefordshire starting at the New Inn |
| When: | A Saturday near 29th May (may be in early June) |
| Time: | 10 am |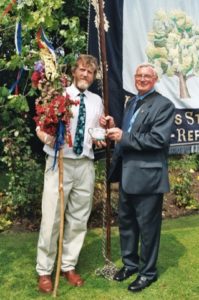 Fownhope in Herefordshire is the setting for an annual walk held on a Saturday near Oak Apple Day (29th May). At one time Friendly Societies were common throughout the country as associations for rural workers, often in agriculture, and in return for a modest subscription members would receive a return if they fell upon hard times; this was especially important in the days before the Welfare State. Many such associations were formed through the Nineteenth Century with Fownhope's dating back to the very early 1800s, though few similar groups survive today. It was common for the societies to have an annual celebration and this often took place around Whitsuntide, in the form of a Club Walk and perhaps a sports day, providing a much needed holiday for the group. Today the members carry sticks garlanded with flowers and greenery and the walkers follow their route around the village led by a band, and by the Society Banner and a bough of oak gathered freshly that morning. Some of the sticks are passed down through the generations, lovingly bedecked with new flowers each year. The walk begins at the Church with a thanksgiving service, and ends with refreshments around the village and the award of prizes for the best decorated sticks. Following the walk, sports are organised and a hog roast. Expect morris dancing, music and merriment!
Helpful Hints
In 2018 it will be on Saturday June 2nd.
Click here for the page on the village website: https://sites.google.com/site/fownhopevillage/clubs-organisations/heart-of-oak
and here for the village Facebook page: https://www.facebook.com/FownhopeVillage/?hc_ref=SEARCH&fref=nf
Many thanks to Robin Peers for drawing my attention to this event, and for the photographs.