| | |
| --- | --- |
| Where: | Gatehouse of Fleet, Dumfries & Galloway with Torchlight Procession from High Street to Garries Park, Parade High Street to Garries Park, Rideouts from Garries Park & Clocktower |
| When: | 1st weekend in August and week leading up to it with Torchlight Procession on Wednesday, Gala Parade on Saturday and Rideouts on 2nd Sunday |
| Time: | Torchlight Procession 9.30pm, Gala Parade 1pm and Rideouts at 2pm and 6.15 |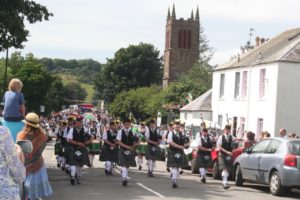 The Gala Week held at the end of July at Gatehouse of Fleet is a typical series of summer celebrations in the Border tradition including  Common Ridings, Torchlit Procession followed by Fireworks and Gala Parade.  Common Ridings are boundary marking customs on horseback. They are mainly held at locations across the Scottish Borders, perhaps because this area suffered from centuries of raiding and reiving between local families and the English, and the locals needed to protect their lands from encroachment. Long after this was necessary, the Ridings survived to become major festivals -expect a large cavalcade of  equestrians and lots of cheering and flag waving. Other festival highlights include a variety of sporting fixtures, fancy dress, dances and competitions. The festival usually lasts just over a week, beginning and ending on a Sunday and with Gala Day itself on the first Saturday in August.
Helpful Hints
In 2018 Gala Week will be from Sunday 29th July to Sunday 5th August. Printed programmes will be available in town and full details are on the event website (below) under "What's On".
Click here for the event website: http://gatehousegala.co.uk/whats-on/
View larger map