| | |
| --- | --- |
| Where: | Gawthorpe, West Yorkshire at the Royal Oak pub on Owl Lane |
| When: | Easter Monday |
| Time: | 12 noon |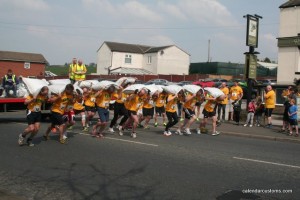 This annual test of endurance sees people racing up to the village maypole whilst carring sacks of coal on their shoulders.For the men the sacks weigh 50 kg/1cwt and for the women 20kg, while the children carry sacks weighing 10kg. The course is 1km long ending at the village green and it's a serious effort to get there – expect the race to last around 5 minutes for the leaders with exhausted competitors by the finish. The first race took place in the 1960s and it's one of those modern traditions started by someone having a brainwave at the pub – as Gawthorpe is right in the coalfield area it seems an appropriate location, though the collieries have gone.
Helpful Hints
If you have trouble finding the location on maps & SatNav try using Ossett as your placename – Gawthorpe is very near. All are welcome – it's a friendly place and it's easy to get a good view. If you're feeling fit and strong, anyone can enter on the day – registration takes place before 11am. Attendance for spectators is free but entrants have to pay £10  with proceeds going to charity.
In 2018 it will take place on Monday 2nd April.
Click here for the event website : http://www.gawthorpemaypole.org.uk/
View larger map