| | |
| --- | --- |
| Where: | Goathand, Yorkshire - Starting at the Reading Rooms on the Green |
| When: | A Saturday mid-Month (officially the Saturday following Plough Monday but sometimes the weekend after) |
| Time: | 10 am onwards |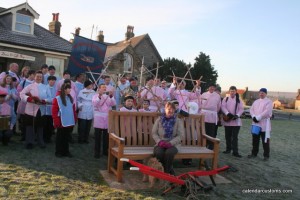 The Goathland Plough Stots are a traditional longsword dance team with a history at least a couple of hundred years long; they have 6 dances each with its own tune and are accompanied by a fool and musicians. Expect to see them "lock" swords in the traditional way.They host their traditional Day of Dance in January starting with a parade from the Reading Room then performing throughout the day at locations around the village. The name "Plough Stots" is derived from the ancient practice of the dancers performing on Plough Monday (the Monday after 6th January, when work resumed after the Christmas season) – now they perform on the  Saturday following, which is around the middle of the month.
Helpful Hints
Look out for the memorabilia display at the Reading Rooms which charts the history of the Plough Stots.
There are several sides with dancers of all ages. If you're there at the start, the teams perform together – later in the day they split up to tour the village. When we went in 2012 we had other commitments later on so sadly couldn't make a day of it, but you could follow the dancers all day long.
In 2018 the Day of Dance will be on Saturday January 13th and the previous Sunday (7th) the Plough is Blessed in the Church.
Click here for the event website : http://www.goathlandploughstots.co.uk/
and here for the Facebook page: https://www.facebook.com/groups/183994174954527/#_=_
View larger map