| | |
| --- | --- |
| Where: | Aintree, Merseyside at the Racecourse |
| When: | Saturday in early April |
| Time: | 4.15pm but the course is open from 10 am with other races before the Grand National itself |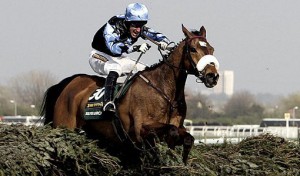 The Grand National is such a huge event in popular culture that I decided to include it despite stating that most sporting fixtures wouldn't be listed on this site! Even if you can't get to Aintree to watch, you can't miss it in the press and on TV ; if folks like to have an annual flutter, this is the race that they bet on. The steeplechase has been running since 1839 and is widely regarded as the World's Greatest Jump Race. It's contested over a gruelling course and is unpredictable and exciting to watch – many of the 40 competitors pull up or fall at the fences and it's unusual for too many to actually compete the course. Expect the crowd to be smartly dressed.
Helpful Hints
In 2017 the big race was on Saturday April 8th – 2018 date is yet to be announced.
Look out for Red Rum's grave near the Winning Post- the only horse to win the race 3 times and a national celebrity in his own right.
Click here for the website : http://www.aintree.co.uk/pages/grand-national/
Photo by Charles Roffey.
View larger map