| | |
| --- | --- |
| Where: | Kinder Scout,Derbyshire Starting at the Snake Pass Inn and finishing at the Old Nags Head at Edale with Prizegiving at the Village Hall, Edale |
| When: | A Saturday in mid September |
| Time: | 12.30 pm onwards starting at 3 minute intervals; Prizegiving 3pm |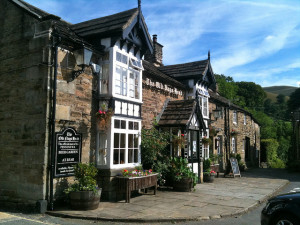 Unusual races are often dreamed up in a pub, and the Beer Barrel Challenge is no exception! It's taken place annually (with only a single year off) since the late 1990s and involves teams of eight setting off at intervals to ascend and descend the slopes and bogs of  Kinder Scout  from the Snake Pass Inn to the Old Nags Head, a distance of  over three miles. Only 11 teams may compete, and competitors must construct their own barrel carrying device; at least 2 must remain in contact with the barrel at all times so no rolling is allowed (and if they get tired en route, the carrying barrels contain only water, not beer!). Winners receive trophies and of course a barrel of beer, and lots of cash is raised for charity. Entertainments and refreshments are available at the Nags Head throughout the afternoon.
Helpful Hints
In 2017 it took place on Saturday September 16th -2018 date is yet to be announced.
Entrants must register by the end of August (follow links below).
Click here for the event website: http://www.kinderbeerbarrel.org.uk
Click here for the Old Nags Head's website: http://www.the-old-nags-head.co.uk
Click here for the Snake Pass Inn: http://www.thesnakepassinn.co.uk
Photo by Morrow Long.
View larger map