| | |
| --- | --- |
| Where: | Countrywide |
| When: | 31st October |
| Time: | All day |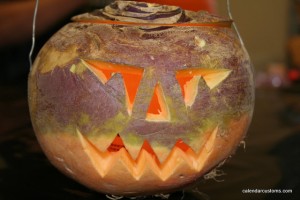 Hallowe'en is the day on which all things macabre are celebrated in the UK. Its origins are obscure but today you are likely to find widespread fancy dress (particularly in the form of witches, zombies, skeletons and vampires), groups of trick-or-treaters visiting houses to ask for largesse, and themed parties. Until recently it was usual hereabouts to make a turnip lantern for the occasion but now the easier to hollow-out pumpkin has superceded it. A note here for those who don't come from the North of England : what we call turnips are what other folks call swedes. Toffee apples are popular as well as confectionary in unusual shapes produced specially for the festival. Games such as apple-bobbing (catching floating apples using only your teeth) are traditional, as well as telling ghost stories or the more modern equivalent of  watching a horror film.
Helpful Hints
You need determination to hollow out a turnip – it's much easier to scoop out the innards of a pumpkin but the turnip lasts longer and the smell as it gets singed by the candle inside is very evocative (to me, it's the smell of Hallowe'en!)
If you'd like to visit an organised event, the National Trust and English Heritage/Cadw/Historic Scotland have family themed activities at many properties throughout the UK, particularly at weekends near the 31st. It's also a popular time to participate in an organised "ghost walk" ( I once did the York Ghost Walk on Hallowe'en and it was very good!). Wherever you are in the UK, there will be something happening near you as the custom is very widespread and is continuing to grow in popularity.