| | |
| --- | --- |
| Where: | Hartfield, Sussex by Nicholas Smith's grave at St Mary the Virgin's Church on Church Street. |
| When: | Good Friday |
| Time: | 9am |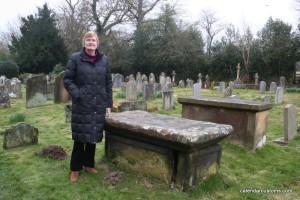 The Church of St Mary the Virgin at Hartfield is the scene each Good Friday of the Hartfield Dole, which is a charity giving money to the poor of the parish. Back in the seventeenth century, Nicholas Smith left a bequest of money, the interest from which is used to fund the charity. The legend behind the event is that Smith travelled around disguised as a beggar to see how he was treated;  Hartfield was the only place where he received a warm welcome so he chose to be buried and leave his riches there. The dole takes place beside his tomb near the church porch.
Helpful Hints
In 2018 it will take place on Friday 30th March. There are usually no claimants!
The dole is given to local residents in the churchyard in a simple low-key ceremony, which is only publicised normally in the parish magazine. When we went in 2013, there were no claimants; we discussed the likelihood that even though there are probably local people in need of a helping hand, they won't want to publicly admit it and be seen to be asking for money.
Hartfield is a very attractive village with friendly residents and the church is usually open for visitors every day.
Click here for the church website :   http://www.hartfieldchurch.org/
View larger map