| | |
| --- | --- |
| Where: | Hatherleigh, Devon - Market Street / Market Place area and around town |
| When: | 2nd Saturday in November |
| Time: | 1st barrel run 5am. Procession 6pm onwards; 2nd barrel run around 9.30 (but check event website for full programme) |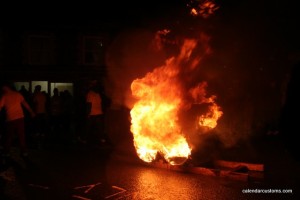 Hatherleigh Carnival is a fund-raiser combined with Guy Fawkes Night celebrations and used to be held mid-week near the 5th but is now held on the 2nd Saturday in November. There is a torchlit procession, a parade of  tractor-drawn decorated illuminated floats and a  bonfire as well as barrel running which as far as I know is unique to Hatherleigh. On the Friday before the big day, barrels are pulled up Market Street accompanied by musicians and entertainers and they are left ready for 5 am on Saturday, when some of them are set alight and dragged blazing through town on special sleds. At 6pm the float parade gathers in the Market Place and by 7.30 is joined by the torchlit procession in Market Street; at around 9.30 the rest of the barrels are lit and paraded round town at speed amid the crowd, which is fairly brief but spectacular! Afterward the barrels form the nucleus of the bonfire at the Market. In addition there is the crowning of a Carnival Queen, Prince and Princess and plenty of street entertainment.Expect big crowds especially during the evening and a great atmosphere.
Helpful Hints
As with all fire events, caution must be excercised – don't wear anything too good and keep out of harms way. The event will go ahead in spite of bad weather as we found out in 2013 – the residents put on a great show, determined to enjoy themselves and ignore the rain and we were very impressed!
Merchandise is available on the day or by post and there is plenty of food & drink on sale in town (I'd recommend the fish & chip shop ). Parking at the Market is plentiful and well organised and only cost £1 in 2013 – and it's easy to get to the bonfire site which is near (but not too near!).
In 2018 it will be on Saturday November 10th.
For the event website with full timetable click here : http://www.hatherleighcarnival.co.uk/
View larger map