| | |
| --- | --- |
| Where: | Hawick, Borders near the Tower Hotel, High Street and racecourse |
| When: | Friday after 1st Monday in June |
| Time: | From 6 am onwards with Rideout at 8.30, racng from 12.30, return to town 4.30 (ish!) |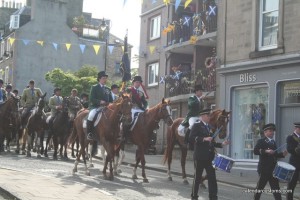 Hawick Common Riding is the first of the border festivals in the season and as well as marking the boundaries it commemorates the 1514 capture of the English flag by a local youth. After a series of build-up events, the main Ride Out takes place on the Friday. Snuff is distributed at 6am before the main party take breakfast together and ride out led by the Cornet and his flag.  Races take place during the afternoon before the party return to town accompanied by the fife & drum band for the reading of the Proclamation and a final rousing rendition of "Teribus" at the plinth on Mill Path.Expect flag waving, special songs and music, decorated shop fronts and literally hundreds of equestrians. A dinner and ball follow during the evening (for ticketholders only).
Helpful Hints
In 2018 it will be on Friday June 8th. There's also a host of activities during the days around the Friday including other rideouts , further racing on the Saturday and more (check website for details).
When we went in 2014 the riders arrived back in town way behind schedule as there was such a huge turnout of equestrians for the quincentenary ride – it takes longer to get 500 horses and riders around the route- so times are flexible. Buy a programme for the full list of events if you can – apparently they often sell out early so if they've run out, visit Tower Mill at the southwest end of the High Street and they'll give you a map of the town and a photocopy of the timetable for the festival. Lots of the shops and businesses around town close all day or early on the Friday & Saturday.
Click here for the excellent event website – all you need to know about the current festival and its history : http://www.hawickcommonriding.com/
View larger map