| | |
| --- | --- |
| Where: | Hawick, Borders with Procession from the High Street, Hot Trod at Common Haugh |
| When: | Weekend in late March |
| Time: | Procession 10.45 am, Hot Trod 6.30 pm |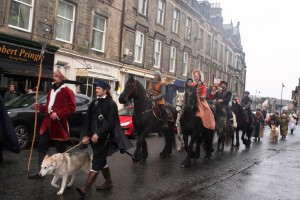 The border reivers were the folk who inhabited the "debateable lands" on the frontier of England & Scotland in the days before the Union; their quarrelsome ways and aggresive habits added words like bereavement and blackmail to the English language and their descendants still populate the area with well-known reiver surnames like Elliot, Dodds and Graham. Hawick was at the heart of reiver country and each spring a Festival is held to commemorate this heritage; it's been going for a few years but is still a relative newcomer to the local calendar. Expect a  costumed Procession on the Saturday morning, a series of entertainments, sports, living history displays and lectures throughout the day and a market, and the Hot Trod torchlit procession on the Saturday evening followed by fireworks at Wilton Lodge Park. Talks and further activities follow on the Sunday.
Helpful Hints
All are welcome and most of the events and activities are free. In cases of extreme weather the programme may be amended.
In 2018 it will be held on Friday March 23rd, Saturday March 24th and Sunday March 25th.
Click here for the event website and full programme: http://www.hawickreivers.com
and here for the Facebook page: https://www.facebook.com/hawick.reiversfestival.3?fref=ts
View larger map