| | |
| --- | --- |
| Where: | Hereford at the Cathedral |
| When: | Sunday near 6th December |
| Time: | At Evensong, 3.30 pm |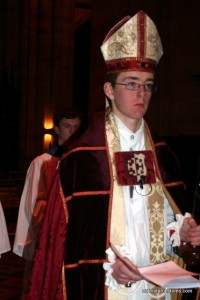 St Nicholas' Day falls on December 6th and because he is patron saint of children, it was appropriate for this to be the chosen date to elect a Boy Bishop. In the past it was a common practice in many larger churches and Cathedrals to elect a chorister to act as Bishop for a short period in advent in a typical role-reversal custom whereby masters and servants swap places. Most of these practices ceased at the reformation but the custom still takes place in revived form at Hereford; a teenager is elected from the choristers and he takes his throne on the Sunday near St Nicholas' Day at the Choral Evensong service.  His reign lasts for three weeks and in this time he plays an important part in services, wearing full episcopal regalia, in a tradition that here goes back to the thirteenth century.
Helpful Hints
There are similar ceremonies at other churches around the country but this is the best established and known (see separate listing for the Salisbury Boy Bishop). If you enjoy a High Church style service, you'll love the Latin anthems – the choristers' beautiful singing sent a tingle down my spine! There are activity packs to keep young children amused and there is a very welcoming atmosphere. Try to get there about half an hour early to get a good view.
In 2018 it will be on Sunday December 9th (to be confirmed).
In years when the first Sunday in December is Advent Sunday, the Boy Bishop ceremony will be on the second Sunday of the month. This happens when 1st, 2nd or 3rd December fall on a Sunday.
Click here for the Cathedral website : http://www.herefordcathedral.org/
View larger map