| | |
| --- | --- |
| Where: | Sharnford, Leicestershire at the Countryman on Leicester Road; Sapcote, Leicestershire at the Red Lion on Church Street and other nearby venues; Stoney Stanton at the Star Inn on New Road & the Blue Bell |
| When: | Saturday nearest Plough Monday |
| Time: | Sharnford 9.30; Sapcote 11.30; Stoney Stanton 1.15 |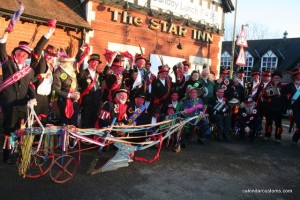 The Hinckley Bullockers are a morris/molly dancing side who mark the ancient customs of Plough Monday – but to fit in better with the modern calendar they perform on the Saturday nearest instead. In the Leicestershire area Plough Monday performers were known as Bullockers and they covered their faces in red raddle as a disguise, while touring the districts houses and pubs requesting donations and ale. Today the Hinckley side tour around the villages of Sharnford, Sapcote and Stoney Stanton with their beribboned plough….. ale for the dancers and cash donations for charity will be welcome!
Helpful Hints
All times are approximate!! In 2014 by mid afternoon were running a whopping half-hour ahead of schedule (we usually find that morris time runs behind the regular clock but not in this case!).
The 2018 date is Saturday 6th January.
Click here for the Bullockers website : http://www.martinwildig.com/mwbull.htm
View larger map