| | |
| --- | --- |
| Where: | Hobkirk- on the road beside the church |
| When: | Monday before Shrove Tuesday (or the Monday following) |
| Time: | 4pm |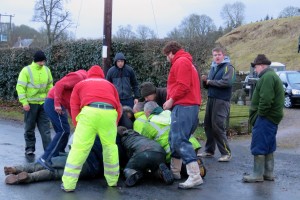 Hobkirk is the smallest settlement to host a traditional festival "Uppies & Downies" game. It takes place during Shrovetide (as do many of the other games of this type) usually on the Monday before Shrove Tuesday. It is a handball game played with small balls which start off covered with ribbons, often given to mark a special occasion during the previous year like a wedding or anniversary; between 5 and 10 balls are used and play mostly takes place near the church. If a player takes the ball a great enough distance from the pack it is considered to be a goal or "hale" and another ball will come into play. By 7pm the tired players repair to the Horse and Hounds at Bonchester Bridge to give the prizes and recover.
Helpful Hints
This is a small-scale game so don't expect much ceremony or crowds. It's a little village and most of the game occurs on the minor road past the church; the starting time isn't set in stone so don't worry if nothing happens for a while, the players will turn up!
The dating of the game is linked to the similar event Jedburgh Hand Ba (see separate article) – Hobkirk's game always taking place on the Monday preceding the Jedburgh game, which is determined by the phases of the moon, sometimes making it the week after Shrove Tuesday and occasionally even further apart.
In 2018 it will take place on Monday 19th February (the week after Shrove Tuesday this year!) .
Click here for more info including an up-to-date schedule for all the Border games:http://www.playedinbritain.co.uk
View larger map