| | |
| --- | --- |
| Where: | Nantwich, Cheshire - Wreath Laying in Town Square, Battle on Mill Island |
| When: | Saturday nearest 25th January |
| Time: | Wreath laying 1.30 pm , Battle Re-enactment 2 pm |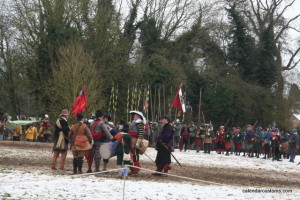 Holly Holy Day commemorates the lifting of the Siege of Nantwich during the English Civil War on 25th January 1644 and the name is derived from the locals wearing sprigs of holly in their hats to celebrate. The commemoration dates back over 40 years when a wreath-laying ceremony began organised by the Nantwich History Society (holly wreaths, naturally); in later years the Sealed Knot joined in to stage annual battle re-enactments and make a big day of it. Expect living history displays, cavalry, music, molly dancing, plough witches and other activities throughout the day in the town, with the Battle Re-enactment on Mill Island just on the west side of the town centre at 2pm. Holly sellers will be around the Square so you can buy a sprig from their baskets. Listen out for the discordant church bell peal, rung as it was in 1644 to alert the townsfolk.
Helpful Hints
Free programmes are given out in the Square on the day – don't miss Nantwich Museum in Pillory Street which has a display devoted to the history of the Battle. Plenty of food & drinks are available in the town and there is a well-stocked market. Nantwich is an attractive town – we were there from 10am in 2013 until after the Battle and found plenty of interesting corners to explore between the events of the day. If you want to see both the Wreath Laying and the Battle Re-enactment, make your way swiftly to Mill Island after the Wreath Laying to get a decent view and wear suitable footwear as the Island can be muddy underfoot.
In 2018 it will be held on Saturday January 27th.
Click here for the event website : http://www.battleofnantwich.co.uk
View larger map