| | |
| --- | --- |
| Where: | Holywell, Flintshire, Wales at the Church on Well Street and St Winefride's Well |
| When: | Sunday nearest 22nd June |
| Time: | 2.30 pm |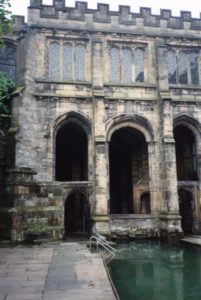 According to legend,when St Winefride's head landed on the ground as the rejected lustful villain Caradoc smote it from her neck with his sword, a spring of pure water gushed forth, which is the origin of the holy well on the site at Holywell. Winefride was miraculously restored to life and went on to become a nun; her shrine has been a place of pilgrimage and healing for centuries and is believed to be the only one  to have a record of pilgrimage of over 1000 years in the UK. The saint's feast day is June 22nd and each year on the Sunday nearest, a Pilgrimage takes place from the Church to the Well, followed by veneration of her Relics and blessing of the sick.
Helpful Hints
In 2018 the Pilgrimage will take place on Sunday 24th June.
St Winefride's Well may be visited all year around (see link for details) – the holy water may be purchased on site or you can fill your own container. Bathing in the healing waters is available at set times.
Click here for the Well website: http://www.saintwinefrideswell.com
View larger map