| | |
| --- | --- |
| Where: | Hyde Park, London at the entrance to St John's Church and around Hyde Park Crescent |
| When: | Penultimate Sunday in September |
| Time: | Just before Noon |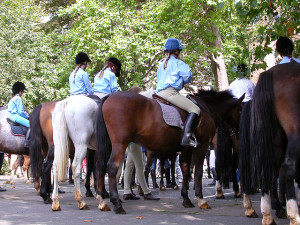 Hyde Park is the setting for an annual cavalcade of around 100 equestrians who gather for the Horseman's Sunday service to celebrate riding in the city. Started in 1968, it's a Christian Blessing by the vicar of St John's Church and it follows morning service at the church (for pedestrians only!). The horses assemble just outside the church entrance and line up around Hyde Park Crescent ; the vicar performs his Blessing on horseback followed by the presentation of rosettes and a ride-past. Expect horses and ponies of all sizes plus horse-drawn vehicles and lots of horse-lovers.
Helpful Hints
Morning Service begins at 10 am. Visitors are welcome.
In 2018 it will be on Sunday September 23rd.
Clcik here for the St Johns website : http://www.stjohns-hydepark.com/
Photo by best read cold.
View larger map