| | |
| --- | --- |
| Where: | Formerly Firle, Sussex at Middle Farm on the A27 Selmeston Road |
| When: | Formerly Saturday nearest 17th January |
| Time: | Formerly 6pm |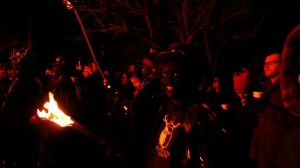 Sussex side Hunters Moon Morris formerly organised a traditional wassailing event each January at Firle in Sussex. Wassailing is a winter custom to encourage a healthy harvest in the year to come (see article on Wassailing for more info). It had all the elements you could possibly want including a torchlit procession,morris dancing, drumming, bonfire,traditional mummers play, a live folk-band and copious food and drink as well, of course, as the actual wassailing of the orchard trees.
Helpful Hints
Twelfth Night (6th January) was often the date chosen for wassailing; when the calendar was altered in the eighteenth century some of the events moved with it to January 17th  rather than sticking to the 6th January date. This is sometimes known as Old Twelfth Night and the Hunters Moon Wassail was held on the nearest Saturday to this date.
From 2013 Hunters Moon hosted their own private wassail event and there is currently no wassail at Middle Farm. However, there's a Wassail just a few miles up the road at Stone Cross near Polgate on a Saturday in in mid January, organised by Pentacle Drummers (thanks to Ian Kelly for sharing about this event!) – click here for details: http://www.pentacledrummers.co.uk/index.html  
Click here for the Hunters Moon Morris website : http://www.huntersmoonmorris.co.uk/diary.html
Photo by Herbedaceous.
View larger map