| | |
| --- | --- |
| Where: | Combe Martin, Devon - all around the village |
| When: | Spring Bank Holiday Weekend |
| Time: | From 7.30pm on Friday ; all day Saturday & Sunday, Evening from 5.45 on Monday |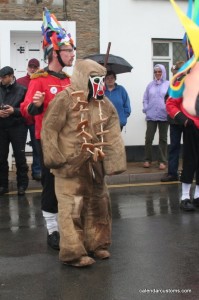 Hunting the Earl of Rone is a unique event to Combe Martin in Devon; it was revived in the 1970s after a break of over 100 years and is believed to date back to the early Seventeenth Century when the Earl of Tyrone was shipwrecked locally (though there are plenty of theories about this…). The Earl is hunted all weekend long starting on Friday evening at Holdstone Way (not Kiln Car Park, from 2012)  and he is evenually caught on the Monday evening with the Hunting Party setting off at 5.45 at Wood Lane above Lady's Wood; the Hobby Horse and Fool join the party to return to the Main Road and progress to the beach at sunset . There are dancers, drummers and musicians. Expect a party of Grenadiers in uniform with beribboned headgear who hunt the Earl ( dresssed in sacking and mask with a string of ships biscuits around his neck). At regular intervals the procession stops, the Grenadiers take aim and shoot the Earl, who drops to the ground, then the Hobby Horse revives him and it all starts up again. The party reach the beach at sunset (around 9.30) where the Earl is shot one last time and is cast into the sea for another year.
Helpful Hints
It goes ahead whatever the weather!
In 2018 the event will take place from Friday May 25th to Monday May 28th. It begins at 7.30 on Friday starting at Seaside and ends around 9.30 on Monday at the beach – see website link for full details and timings.
For the programme and more on the history click here : http://earl-of-rone.org.uk/
View larger map