| | |
| --- | --- |
| Where: | Countrywide & Butser Ancient Farm, Hampshire |
| When: | February 1st and near weekend |
| Time: | All day (Butser 1pm-4pm) |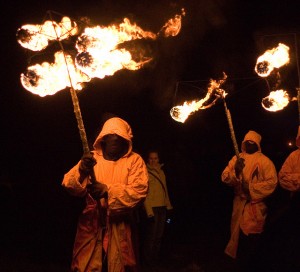 Imbolc is the feast day of St Brigid and marks the beginning of spring in the pagan year;  Brigid was a pagan goddess later christianised and adopted by the church. Today neo-pagans, Wiccans and Druids celebrate the festival countrywide. Fire and water are important elements in the festival but it is celebrated in a variety of ways; in the past corn-dolly representations of the saint were carried from house to house in a luck bringing custom.
Helpful Hints
Imbolc Fire Festival celebrates Imbolc every other year (see listing under February Variable Dates).
As well as ceremonies organised by Wiccan and Pagan groups throughout the country (and too numerous to list here) there are celebrations for Imbolc organised each year  at Butser Ancient Farm on a weekend near February 1st. All of the major Celtic festivals are marked at Butser including the spectacular Beltain (see separate article). Click here for their website http://www.butserancientfarm.co.uk/
In 2018 the Butser Imbolc will be on Saturday 3rd February.
Photo by Steven Earnshaw.