| | |
| --- | --- |
| Where: | Irvine, Ayrshire - parade starts at Golffields Road coronation at the Town's House on the High Street |
| When: | Mid August (main day is 2nd weekend of the festival - 3rd Saturday after 1st Monday of August) |
| Time: | 9.30am onwards, coronation at noon |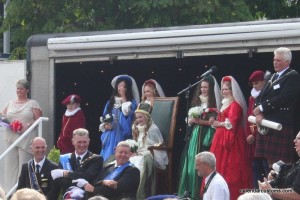 The Marymass Fair at Irvine began during the twelfth century and the name came from the Christian feast of the Assumption (when Mary ascended into heaven) – since the beginning there has always been a parade featuring a Marymass Queen.  Over the festival period there are many concerts, exhibitions, talks, competitions, entertainments including fireworks and a funfair. The fair lasts twelve days in August and the main day is the second Saturday, known as Marymass Day or Traditions Day.  In 1563 Mary Queen of Scots visited Irvine and ever since the parade has featured this Queen with her "Four Maries" and pages (the Four Maries were the Queen's companions who all shared her christian name). The coronation takes place at midday at the Town's House following the morning parade. Expect to see beautifully groomed and decorated Clydesdale horses, some mounted and others pulling carts and carriages, accompanied by riders and passengers in elaborate fancy dress.The afternoon's activities include horse racing on Irvine Moor, which has been a feature of the festival since it began. It's a well established and well-run event organised by the Irvine Carters Society.
Helpful Hints
In 2017 it will be from 19th to 28th August with Traditions Day on Saturday 26th and the Flower Show on 28th (see Comments section below for details and contacts for the Flower Show).
Click here for the event website : http://www.marymass.org and http://www.marymassfestival.com
and here for the Facebook page: https://www.facebook.com/irvine.carters
View larger map