| | |
| --- | --- |
| Where: | Jedburgh |
| When: | Thursday after Shrove Tuesday (but double check as sometimes it's held a week later!) |
| Time: | 12 noon (boys) and 2pm (men) |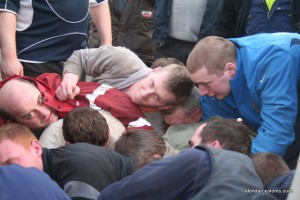 Known locally as Jethart Ba', two handball games are played on the Thursday after Shrove Tuesday (or the week after, depending on when the first new moon falls after Candlemas -the offical fixing of the date is the Thursday following Fastern's E'en and Fastern's E'en is the Tuesday following the first new moon after 2nd February aka Candlemas; this is usually but not invariably the same day as Shrove Tuesday). Traditionally the first ever game was played with an Englishman's head (opposite to the Alnwick Football legend!) and the ribbons on the ball symbolise his hair.The  teams (Uppies and Doonies) are chosen by where they live – Uppies are those born to the South and Doonies to the North of the Market Cross. Play is in the town centre starting in the Market Place with the boys or Callants game at 12 and the mens game following at 2; the Uppies goal is outside the Castle Jail and the Doonies goal is at the Pleasaunce, each a couple of  hundred yards away from the start. Several balls are thrown and the games can last for hours- expect lots of thrills and spills and scrummaging!
Helpful Hints
There is a handy free car park at the South end of town just off the A68. Food & drink are readily available (though some shops are boarded up for protection from the game and it's early closing day on a Thursday). Keep well back from the scrum as play is fast and furious and the pavements are hard!
Kind staff at the local school have provided me with a timetable for the game date lasting until 2025! The dating is relatively complex as its related to the lunar calendar as well as the church calendar so for clarity to modern readers I've tried to relate it to the better-known Shrove Tuesday.
In 2018 it will be on Thursday 22nd February (the Thursday 9 days after Shrove Tuesday this year!).
Click here for more info including an up-to-date schedule for all the Border games:http://www.playedinbritain.co.uk
View larger map