| | |
| --- | --- |
| Where: | Kelso, Borders - town centre with Rides leaving from and returning to The Square |
| When: | Penultimate Saturday in July and week leading to it |
| Time: | Curfew 5.40pm on Friday followed by Whipmans Ride;Yetholm Ride 8.30 am departure, 4.45pm return on Saturday |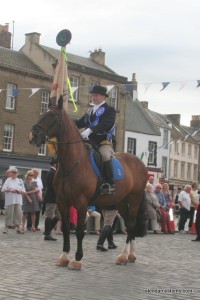 Kelso Civic Week is a typical series of summer celebrations in the Border tradition dating back to the 1930s and including  Common Riding.  Common Ridings are a boundary marking custom on horseback. They are mainly held at locations across the Scottish Borders, perhaps because this area suffered from centuries of raiding and reiving between local families and the English, and the locals needed to protect their lands from encroachment. Long after this was necessary, the Ridings survived to become major festivals. The main rideout to Yetholm is on the second Saturday of the festival, but there are other rides including one to Floors Castle and the Whipman's Ride on the Friday, which is the most traditional of the rideouts and follows the ringing of the Curfew Bell and an Oration. The main protagonist here is the Kelso Laddie with his supporters the Right Hand Man and Left Hand Man- expect a large cavalcade of over 100 equestrians and lots of cheering and flag waving. Other festival highlights include a variety of sporting fixtures, fancy dress, dances, fireworks and a torchlit procession.
Helpful Hints
The 2018 dates will  be Saturday July 14th to Saturday July 21st with the Whipmans Ride on the 20th and Yetholm Rideout on 21st.
Local newsagents and the photography shop sell a detailed programme for the festival.
For more information and a basic programme click here : http://www.kelso.bordernet.co.uk/
View larger map